January 03, 2023
Multifunctional furniture
Multifunctional Furniture That Are Perfect For Small Spaces
Small homes are great because they make us think more carefully about how to furnish the most functional spaces like our bedrooms. This is why choosing furniture that functions well and looks good is high on the shopping list.
Multifunctional furniture provides a brilliant and practical solution for smaller spaces. There are many stylish options, from ottomans with built-in storage for throws and cushions to slim hallway sideboards to place your favorite scented candles, which will also stop shoes cluttering up the entrance to your home. 
So, furniture that performs many functions earns the reward of a place in your home, but where can you find options that won't leave too deep a dent in your wallet? This is why we have come up with a list of convertible furniture that is stylish while being affordable.
Multifunctional Table For Eating 
Folding furniture is one of the most practical and functional designs that exist today. Make use of it when you need it the most or simply put it away. One type of fold-down table that has caught attention is the smart lift-top coffee table. These tables have lids that rise up to convert into a worktable or dining area and then lowers back into the coffee table when not in use. This multifunctional furniture works great in places that don't have much space but also need a work or dining area.
Another convertible furniture for small spaces is a foldable table that can seat your guests and store extra foldable chairs when not in use. A butterfly or a drop-leaf table is becoming more common as the idea of a separate dining space is not possible in a small home. You can place these tables in your living room or kitchen. Invest in a sturdy drop-leaf table that can become the perfect dining space for groups or families. If you don't know where to buy it from, we have the perfect store in Houston, Texas!
Multifunctional Sofa For Sleeping Space
Futons are space-saving and conveniently turn into a bed in seconds. Another good thing about them is that you can convert them to a quick daybed if you want to comfortably seat more guests. This sofa multifunctional furniture doubles up as a roomy bed with ease. Head to our store in Pasadena, Texas to look at our stylish collection of futons now!
If you don't want a bed, you can also go for modular sofas that come with extra sections These can then be extended to make extra seating arrangements for your guests. Or if you don't want them to tuck it in and turn it into a cozy space.
Multifunctional Couch With Side Table 
Another piece that utilizes modular building blocks is the coach integrated with a side table to let you arrange your ad hoc setup. The minimalist and stylish coach features an integral low-side table. But it has many potential set-ups. You can arrange this sofa plus table into many arrangements including a corner sofa, a footstool, or a side table. 
Another great multifunctional furniture for small spaces is our coach that has built-in Bluetooth speakers. This couch is a great addition if you want a cinema experience in your home but don't have the space to buy huge speakers separately. You can also opt for a couch that turns into a bed for guests or even to take a nap right there in the lounge! Buy it from our store in Houston, Texas or head to our site to order it online.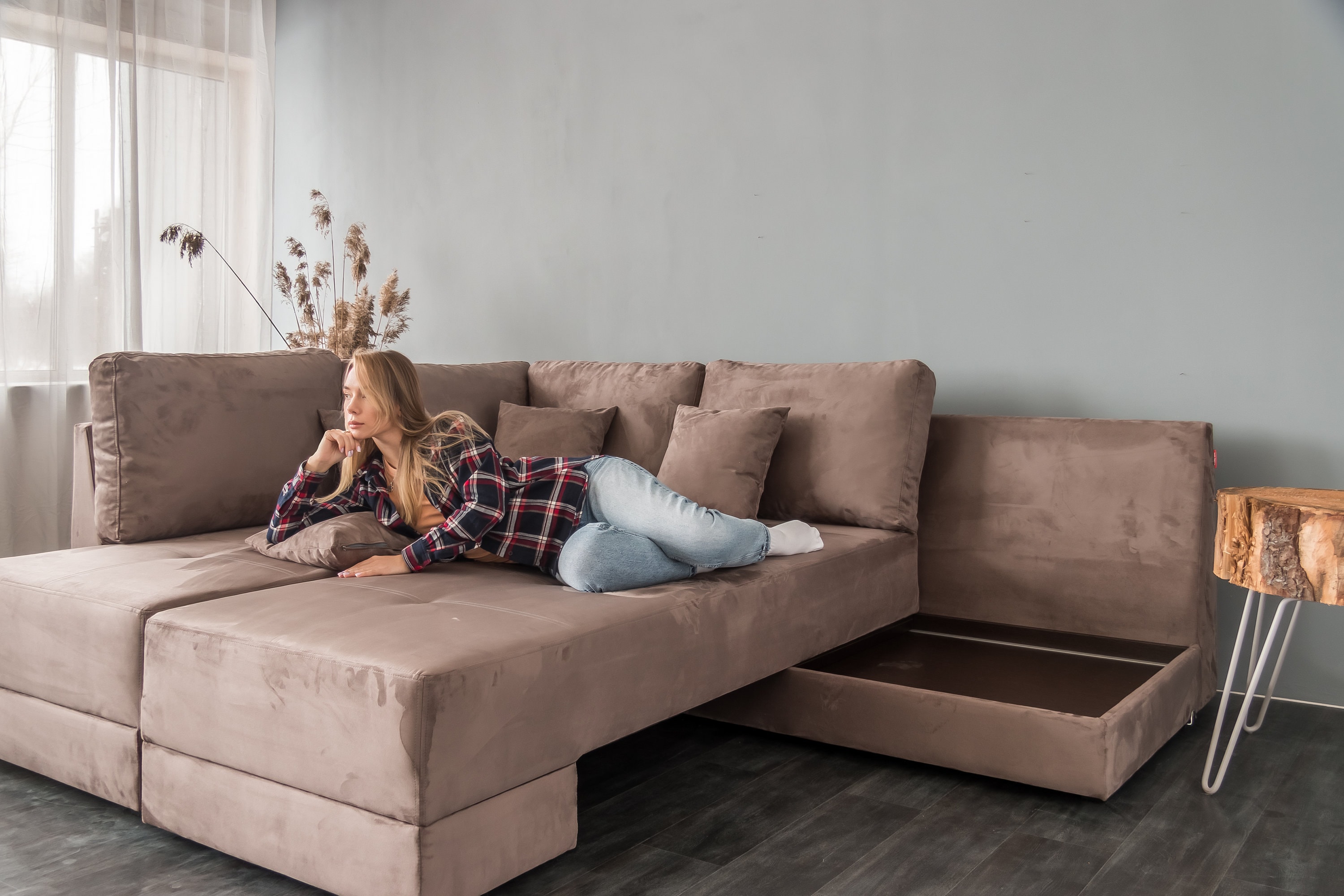 Multifunctional Bed For Small Spaces
The gap under a bed can be a smart use. You can use it as a storage system to put away your blankets, quilts, bedding, or even clothes. Some beds have built-in storage on the sides or exterior and at the same time can have storage drawers, compartments, or shelves beneath the mattress. Now, this is what we call maximum use of space! This type of transformed furniture will help you to eliminate clutter. It is also perfect for kids and teens especially. Let's face it, they are the ones that make the most mess!
Work Spaces That Convert Into Loft Beds
Think of the biggest furniture piece that usually occupies most of the space in your bedroom. It is usually your bed, study table, or work desk. How about combining them to save money and space? For people that don't mind climbing a little to go to bed, loft beds combined with a cozy desk-sized nook for working or studying in the lower tier is the perfect multifunctional furniture. You can turn your bed into a table or convert a table into bed. The loft bed will also free up room for other essential furniture like a sofa and dining table.
Ottomans For Storage And Seating Space
Ottomans are perfect when it comes to storage. They can be used for storing various items when not in use. An ottoman can be used for extra seating when you need seating space for guests or can also act as a coffee table. Whether you keep it in the center of your living room or at the foot of your bed, an ottoman will blend in with your space with ample functionality. Our collection of ottomans in Katy, Texas are the best in the area.
Multipurpose Kitchen Baking Rack
Do you not have enough workspace in your kitchen? A multipurpose baking rack will come in handy. It has a lower, standing shelf that provides enough space for kitchen appliances like a microwave and coffee machine, as well as an upper shelf for smaller kitchen stuff. You can also attach the upper shelf to the wall. Buy one that is well-made, sturdy, and holds lots of storage space. 
Mirror That Turns Into A Wardrobe
Whether it's organizing your collection of shoes or storing essential bathroom supplies, a mirror that turns into a wardrobe is a hidden treasure trove of chic functionality. A fashionable full-length mirror opens up to reveal nine spacious shelves for all of your clutter. Perfect for small space living, where a bathroom might not have closets, this multifunctional furniture provides all the organization you need to keep your home looking clean and you can get this in Katy, Texas to add uniqueness to your small home.
A Chic Bookshelf Plus Stool
A modular stool is a double and triple-duty product that is available in Pasadena, Texas. Besides its use as a small side table (which all stools do), it has some additional uses. The multifunctional furniture when lined up makes a trendy coffee table. When stacked, a unique bookshelf evolves. You can group, stack, combine and create the modular units. All of this without using screws, tools, or glue. Its handle makes the stools easily transportable, counting to its versatility.
Conclusion
Multifunctional pieces of furniture are versatile in adapting to different situations. It offers maximum functionality while only taking up little space. Multipurpose furniture is great for small apartments and tiny houses. It also saves money, as you only have to buy 1 furniture piece to cover a variety of needs. 
But, if you are stumped about where to buy great furniture that serves various purposes, we have the perfect solution for you! Bien Home Furniture & Electronics
 is the perfect place to fulfil your furniture and electronic needs. We offer many multifunctional furniture sets that are affordable and chic in
Pasadena, Houston, and Katy, Texas.